Tile and Grout Cleaning Bangor, Northern Ireland
Bangor Tile and Grout Cleaning Services
---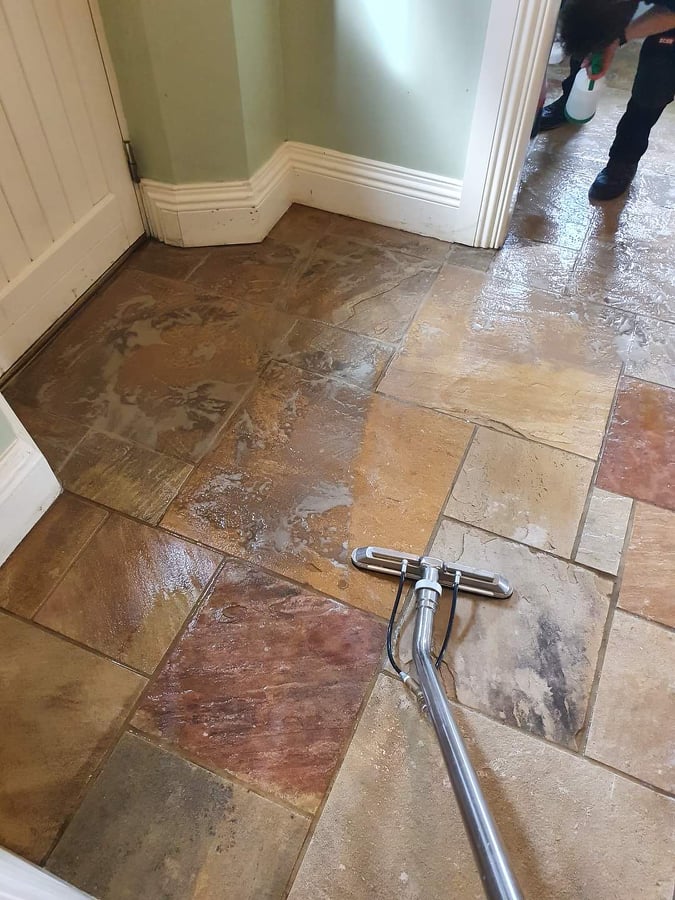 ---
If you're looking for tile and grout cleaning specialist and a floor deep cleaning service that you have never experienced before, you have reached just the right place. We are your local cleaning experts in Bangor and surrounding areas, who specialist in carpet, upholstery, tile and grout cleaning. Keeping on top of everything at your home and business can sometimes get out of hand for our customers. We all know how important it is to keep hard floor surfaces clean and presentable so we can keep being proud of them.
Being an independent, family operated tile and grout cleaning company, we take particular pride in our work. We always say.. "you are only as good as your last job"... which means every job is equally important to us. Thanks to this, to great extent, most of our work is repeat custom and referrals from past customers because when we do something, we do it right. We always make sure that each customer is happy with our work at the end of the service as we believe in long lasting relationships with our customers. After all.. satisfied client is going to be a returning client and we want to continue to provide work for you in future and support they you may ever need.
We are proud to be amongst the very few companies in Northern Ireland who operate a 'van mounted' industrial cleaning system. This means that our main cleaning extractor is permanently mounted into the van along with the water tanks. We simply bring solution and vacuum hoses into your house, which means most of the time we don't need to access your water and power to run the machine as is it self-sufficient petrol, engine driven extractor. Our specialist chemical treatment effectively dissolves the deeply ingrained dirt and grime from your tile and grout. Part of our service is also stain removal, which is also carried out using distinctive spot and stain removers.
Belfast Hard Floor Cleaning – book now on either 028 9532 0229 or 07469 720 541.
OTHER SERVICES WE PROVIDE
Deep Cleaning
Spot & Stain Removal
Smell Elimination
Water Extraction
Carpet Cleaning
Fabric Cleaning
Residential Cleaning
Industrial Cleaning
Tile Seal Stripping
Tile and Grout Sealing
End of Tenancy
'Eco' Cleaning
FULLY INSURED STONE, TILE AND GROUT CLEANING
---
You can rest assured when we are carrying out work at your home, knowing that, we are comprehensively insured in all aspects of cleaning. As well as that, our technicians are all fully trained by leading hard floor cleaning trainers from across the UK. We evaluate the risks and protect all the surroundings that need covered up or put out of the way, for the during of the cleaning. We want you to know that, we value your home, and everything that is in it.
We always begin our service to you with a free tile cleaning demo. We will discuss where at your home you would like to have a test patch of your tile and grout cleaned. This will give you an idea, how your floor will look like once we are finished with the cleaning. We don't make false promises. By carrying out the demo, our customers are able to see for themselves, what is going to come out from their floors and what the end result should look like across the entire floor. It is our job then to make sure, we carry out rest of the work to the same standard as the demo.
So why book with us?
Fully insured
All staff fully trained and uniformed
We don't used harmful chemicals
Service With a Smile
We take care of your home
Excellent Results
We only use specialist, high end equipment
Feel free to connect with us through our Facebook page and check out all the amazing reviews from some of our past customers at – www.facebook.com/carpetprobelfast
To book your Tile and Grout Cleaning or any other additional cleaning service in Bangor, you can also email your enquiries to info@carpetprobelfast.co.uk or call either 028 9532 0229 or 07469 720 541

FILL IN OUR ONLINE CONTACT FORM
Send us a message
Drop us a message and one of our team will get right back to you.
---