Our Google Reviews
Read Through Our Fantastic Google Reviews
---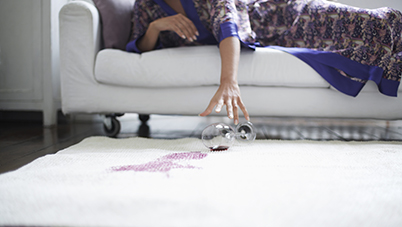 ---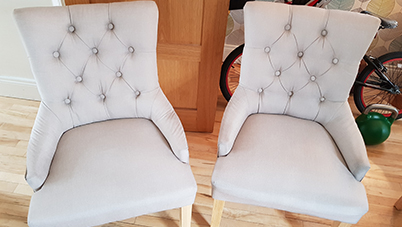 ROISIN MCCULLOUGH
15:04 16 Jul 19
I experienced a very friendly and professional service from Carpet Pro today. I am delighted with the results achieved on a very dirty staircase (which had recently fallen victim to a tummy bug incident) and hall landing in our house due to 3 young boys :-) I will definitely be booking in again soon for the bedroom carpets to be cleaned! I also found the price to be very reasonable for the job done. I would highly recommend Carpet Pro Belfast!
Melissa King
21:18 05 Jul 19
Excellent service. Did a great job of cleaning our carpets and they look like new. Friendly and professional staff. I would definitely recommend.
Adam Locke
13:39 01 Jul 19
Carpet Pro Belfast came out today to clean a living room and suite for us in my house in East Belfast. They did a fantastic job, everything came up like brand new. We couldn't believe the results but once you see the professional equipment they use and see how hard Simon works you won't be surprised. Highly recommend 😊
The Victory Rollers
11:34 28 Jun 19
Amazing job on the carpets, taking out makeup stains, general dirt and little doggie accidents too. They were really unobtrusive and got the job done efficiently and quickly. Simon is lovely and very knowledgeable about carpets. The carpets are like new.
Anne-Marie Wallace Dalzell
10:05 13 Jun 19
Simon cleaned my stairs and landing this morning and did a fantastic job. He arrived on time, was super friendly and incredibly professional. My carpet was grubby and stained from my dogs and kids and he got all the stains out. Very, very good value for money too.Will definitely use again.
Rafal Olszewski
14:03 25 May 19
Couldn't ask for more!!! Fantastic service, booked in carpet cleaning (2 set of our stairs). Wow, what a transformation!!! Arrived on time, great communication and overall - very nice and polite young lad. Thank you !!!
Paul Bradley
17:12 11 May 19
Simon was prompt, courteous and super efficient in everything. He did a fantastic job on the carpets which have come up far better than we ever expected. I would recommend him highly. Thanks for a brilliant job Simon.
catherine jayat
13:53 11 May 19
Great service from Simon at Carpet pro. I've had my carpet cleaned recently by a well known firm and the stains were not removed. Simon got them all out and carpet looks like new. He was very reliable... Came exactly on time. Pleasant and professional service.
Steve Jeeves
08:10 30 Apr 19
Excellent service. Highly recommended. Polite and professional. Good communication. Reliable. Best carpet and upholstery cleaner we've ever come across. First class.
Mariusz Stalis
11:28 10 Apr 19
Simon has been coming out to our house for 3 years now to clean our bedroom carpets and corner sofa. Very happy with the service everytime, quick and reliable and would never look elsewhere. We are always happy to recommend Carpet Pro Belfast to our family and friends.
caodain Bowen
09:40 03 Apr 19
I first used Carpet Pro Belfast when my carpet was at the stage of needing replaced, as the stains were so stubborn on it! (Fake tan & Makeup) ... I don't know how he managed to bring the carpet back to life but whatever he done worked like magic! The carpet looked like new and smelt AMAZING!! Today i had him out again to clean a much used sofa especially with two young children and it came up like new, there was no residue left on the material, and it smells so fresh! As always he arrived on time, Was polite and professional! I will always use his services as the results speak for themselves!
Szymon Neumann
17:26 16 Mar 19
Truly the best carpet cleaning service in Belfast you could potentially get in touch with. The guys are always professional, full of knowledge and will also be happy to answer any of your questions about carpet/ upholstery cleaning and their cleaning process.
David Irvine
21:51 25 Feb 19
Top top service with a can do professional attitude. Highly recommended and will use again. Look forward to the next sofa that needs done at the start of the new year. Clean home is a happy home, thanks
Sara Connolly
15:34 17 Feb 19
Very polite and professional, would 100% recommend.Simon was very quick to respond to my query and was easy to communicate with. Excellent service from start to finish.
Adam Taylor
13:11 01 Feb 19
Amazing service and quality results. Simon arrived on time and confirmed the appointment the day before. Before he started he talked me through the cleaning process and explained what results I can expect from cleaning my stairs carpet. Absolutely delighted and will definitively recommend Carpet Pro Belfast to friends and family
Adam Taylor
08:35 30 Jan 19
Amazing service and quality results. Simon arrived on time and confirmed the appointment the day before. Before he started he talked me through the cleaning process and explained what results I can expect from cleaning my stairs carpet. Absolutely delighted and will definitively recommend Carpet Pro Belfast to friends and family
Matthew Neumann
15:37 27 Jan 19
What a great and professional service. I have messaged Carpet Pro Belfast to book carpet cleaning in my living room and 3 piece suite. The booking was made within next half an hour. Simon has confirmed the booking the day before and arrived on the time scheduled. He was very helpful and moved all the furniture I wasnt able to due to my injury. The work was carried out quickly but efficiently. I can safely recommend this company to anyone who's looking for professional and reliable carpet and upholstery cleaning services.
Niamh
12:37 26 Jan 19
Top class service today from Simon who completely transformed our sofa which looks like new again. Really nice honest guy offering very reasonable prices! Great job would highly recommend!!
Bay Breezin' Travel - Age Gap Couple on the Road
22:19 22 Jan 19
Simon did an excellent and efficient job on our bedroom carpet and our sofa. However, he also impressed us with several other qualities. He was extremely easy to communicate with and efficient prior to our appointment. He is a very hard working and motivated young man who tries to go the extra mile. He treats his customers fairly and ethically. We can wholeheartedly recommend him.
Paul McAuley
19:00 21 Jan 19
First class service. Excellent company with the best quality carpets you can get. Reasonable priced. Brillant
Joanna marie Malone
16:43 21 Jan 19
Second time I have used this service and I really could not recommend carpet pro enough. Fitted me in last minute after an emergency spillage and has my two sofas looking like brand new. Excellent service and excellent value from a really genuine guy!
Caoimhe de Bromhead
12:42 05 Jan 19
Simon did a brilliant job! We're delighted with how everything looks. Arrived on time and was incredibly efficient and friendly. Would highly recommend.
Marie-Therese Collins
11:27 15 Dec 18
Delighted-would definitely recommend.Simon was very cordial and arrived when he said he would. He is a tidy worker, excellent price and he did a great job on my carpet and living room furniture. Would use Carpet Pro again. Thank you Simon!
Fionnuala Moynagh
20:27 06 Dec 18
I thought I needed new carpet for 4 bedrooms, stairs and landing. They were badly stained after raising 4 boys but then I was giving Simon's number and thought I'd give him a try. He cleaned the carpets at a very reasonable price, they look amazing and smell fresh 😀. Getting you carpet cleaned rather than replaced saves a fortune. Great job Simon thank you 😀
Louis Watters
20:46 01 Dec 18
Simon provided a great service and we would highly recommend him and his company. He was happy to come out and give us a quote and communication was very easy for arranging the carpet cleaning. Carpets look like new now!
Briege Caldwell
16:22 29 Nov 18
very friendly professional service provided. cannot recommend enough. carpets and mats are like brand new! thank you Simon
Lisa Trinder
12:20 12 Nov 18
Simon did an amazing job on my carpets! I didn't think they could be cleaned after 10 years and he made them look like new! Lovely guy, amazing service and fair price. Would highly recommend! Thanks Simon
BErnadette DOnnelly
11:36 09 Nov 18
An excellent service from Simon. I had two very soiled bedroom carpets in pale grey and they now look like new. I also had a large rug cleaned again now looks like new. Simon is a young friendly and hard working a lovely person to have in your home. He is very prompt and worked quickly through the process. I recommend him highly.
Piyush Nahata
15:00 05 Nov 18
Simon arrived bang on time as promised, took quick measurements and gave the an estimation upfront on how much the entire job would cost. Very professional and thorough with his work. Kept informing me of what are the activities he would be doing and how long it would take. Completed the carpet cleaning on time and left his drier fans on at various spots in the house to ensure the carpets had dried quickly and the house was ready to be used as normal again. He did a very thorough work and had a very pleasant attitude. Would definitely recommend him to other friends and family and engage him again in future.
Katie O'Neill
12:28 26 Oct 18
Amazing transformation. A very stained light coloured sofa back to new. Great customer service as well, letting me reschedule when I needed to.
Douglas Frazer
11:59 20 Sep 18
Simon and his colleague David (I'm sure that was his name) called out today to clean our sofa before we move house. I done a Google search for sofa cleaners and Simon's was the first to show up. Sent an email off and Simon called me back not long afterwards. That in itself is great service as many companies don't get back as quick as that. Got the quote and i got back to Simon to confirm dates. They called first thing and were bang on time. Really nice lads and easy to talk too. Explained the whole process very clearly and I left them to it. End result is a perfectly clean sofa as good as new. Thanks for the great job Simon!! I will be recommending Simon to all I know. Well done mate :-)
See All Reviews
Write a review
FILL IN OUR ONLINE CONTACT FORM
Send us a message
Drop us a message and one of our team will get right back to you.
---