Stone Floor Cleaning Belfast, Northern Ireland
Belfast Stone Tile and Grout Cleaning Services
---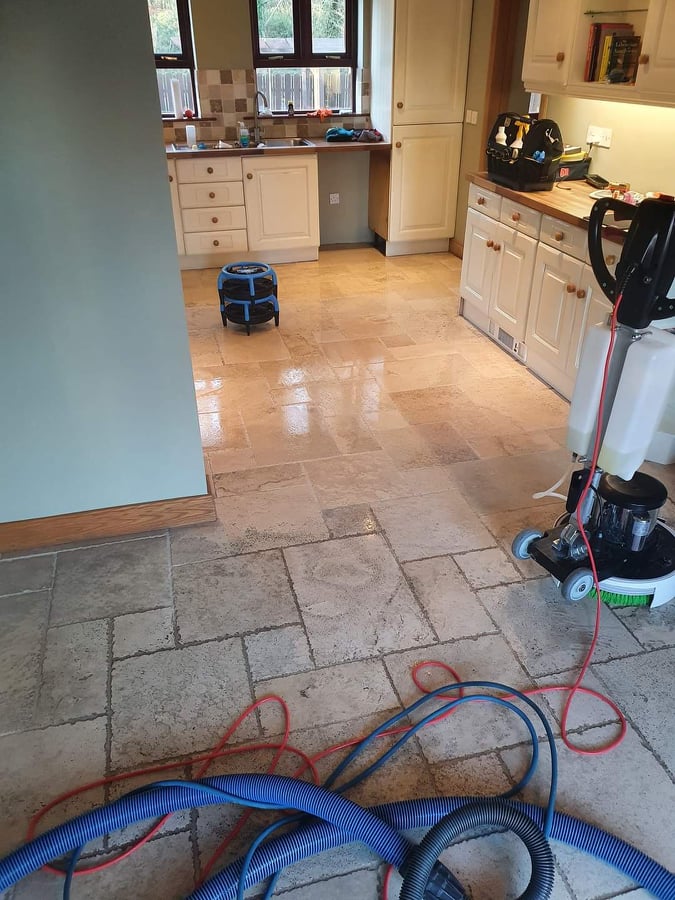 ---
If you are looking for a professional company that will be able to clean and restore your stone floor in Belfast or other surrounding areas, you have reached just the right place.We are your local, independent, family-run business that provides professional tile and grout cleaning services in Belfast and surrounding areas. We have been cleaning stone floors for our residential and commercials customers for quite some time now, which has helped us to establish ourselves as one of the top hard floor cleaning companies in Northern Ireland.
Deep cleaning a stone floor is not as simple as it may seem at first. Many of our customers have admitted to us that they have previously attempted to clean their floors themselves before booking in, which has later lead them to our website. They quickly found out that cleaning stone floors and the grout requires the right equipment, knowledge and experience in order to carry out this kind of work properly!
Our goal is to establish the right relationships with our customers right from the beginning to the end of the job and even beyond that! We don't make unrealistic promises as we believe in full transparency and understanding of what work will be carried out and what expectations our customers may have from the cleaning service. We are big believers that happy customers are returning customers.. and having that in mind we always aim to create a long lasting relationship with our clients in order to provide service and support in the foreseeable future.
We don't provide a 'quick lick'. We guarantee that our customers will receive the best possible results when they choose to go with ourselves. By using the most up to date, specialist heavy duty cleaning equipment, we are confident that we are able to do the best job possible. But that's not all. Our technicians have completed number of different training courses from trainers all over the UK to make sure that they are well aware of all the latest industry techniques adapted by the best trainers.
Belfast Stone Floor Cleaning – book now on either 028 9532 0229 or 07469 720 541.
OTHER SERVICES WE PROVIDE
Carpet Cleaning
Upholstery Cleaning
Residential Cleaning
Commercial Cleaning
Regular Cleaning
Stain Removal
Odour Elimination
Water Extraction
Tile Sealer Stripping
Tile and Grout Sealing
End of Tenancy
'Green' Alternatives
FULLY INSURED STONE CLEANING SERVICE
FOR A PEACE OF MIND
We know how much you value your home and everything that is in it. That's why we are fully trained by UK's leading hard floor trainers. Additionally we have a comprehensive public liability insurance to put your mind at ease when we are carrying out work at your property. We genuinely care as that is our job as your contractor.
Part of our customer journey is to understand what our customers' are expecting from us and our cleaning service. For this reason, we will always begin the service with a demo, based on which, we will come to an understanding with a client as to what extent they are happy with the patch test area that we cleaned for them. This step is very important as it sets out a level of cleaning standard which we are obliged to fulfil. We strongly believe that by being genuine and truthful from the beginning of relationship with our customers, ensures smooth service and great understanding between us and the clients right to the end of the service.
Stone floors are naturally more porous than man-made tiles. This basically means that unless protected with some sort of surface sealer, they are going to be more absorbent to any moisture and dirt. This is why it is extremely important to make sure your floor has been previously protected by a sealer or that you are going to have it sealed after we carry out the cleaning. This will ensure that your floors will stay cleaner for longer and will be easier to maintain for yourself as well.
Check our Facebook page if you're interested in seeing some of our stone, tile and grout cleaning projects in the past. Stay up to date with our current offers and work. Visit and Like -www.facebook.com/carpetprobelfast
To book your Stone Cleaning or any other additional cleaning service in Belfast, you can also email your enquiries to info@carpetprobelfast.co.uk or call either 028 9532 0229 or 07469 720 541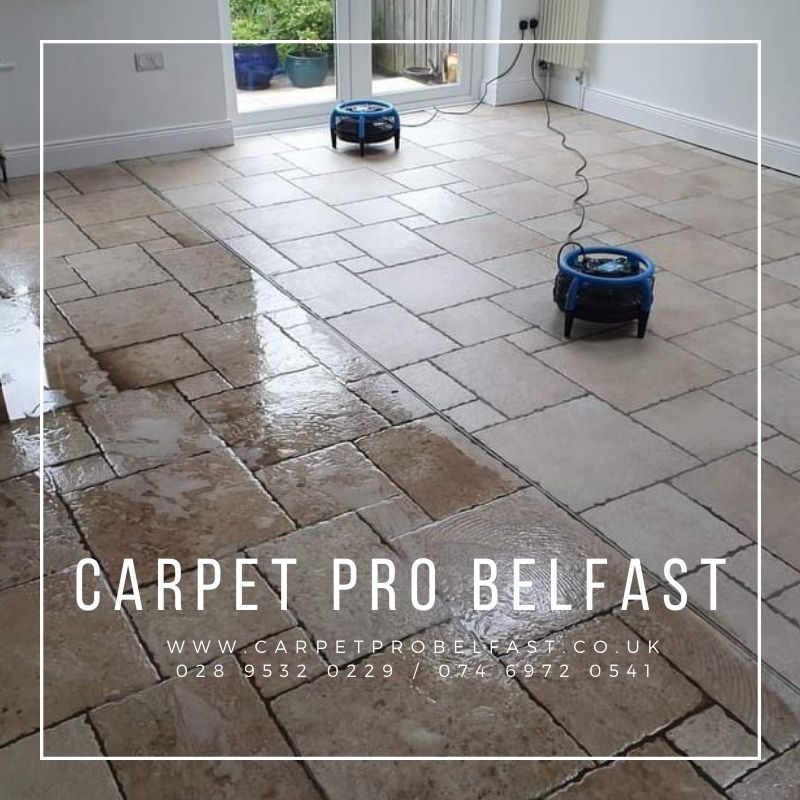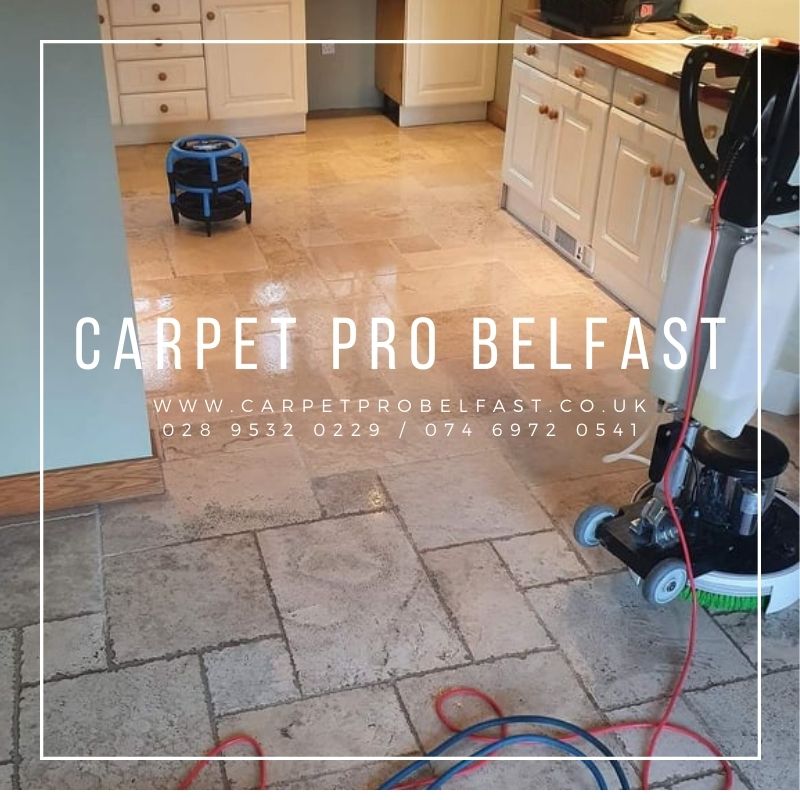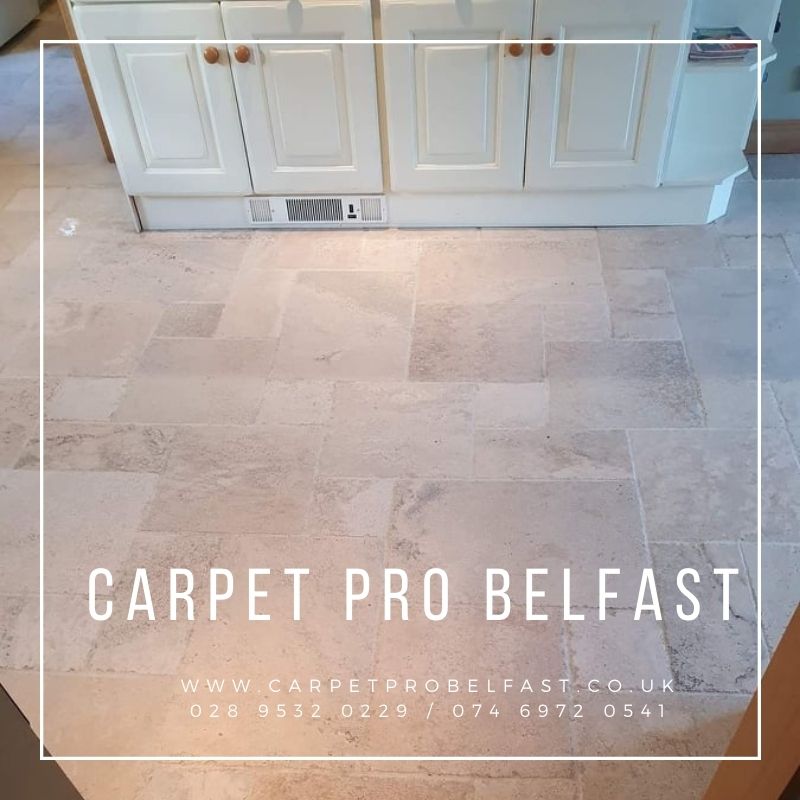 WE CLEAN THE FOLLOWING STONE FLOORS
Victorian
Limestone
Travertine
FILL IN OUR ONLINE CONTACT FORM
Send us a message
Drop us a message and one of our team will get right back to you.
---